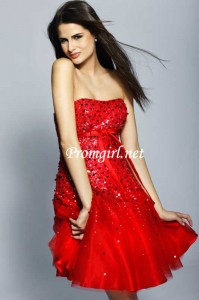 Say that you're new to a school or perhaps you haven't really considered the dress code and you're shopping for prom dresses or formal dresses. You want to make sure that you look nice and you want to choose a dress that you really like—but the question is—how do you find a dress that is completely appropriate and what counts as appropriate as far as dresses go?
First of all, try and get a copy of your school's dress code or look online and find out if they have it posted there. This should be your main guide for choosing your short dresses or prom dresses that you aren't too sure about. However, in short, you should keep these few rules in mind:
Try and keep cleavage almost non-existent. You shouldn't have a plunging neckline—this is a school event and if everything is hanging out of your dress, this is a reflection on them and you may find that you are removed for it. Three inches below the collar bone is a good measurement for keeping it safe. As for skirts, you should keep them at least 3/4ths the way down your thigh and you should be able to pass either the flamingo test or the fingertip test. As for cut outs and low backlines—ask your class sponsor. They know a bit more about what's appropriate than you do and are willing to help.