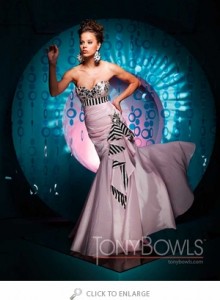 When it comes to prom dresses and their patterns, a lot of people like to run to the dresses that look simple and chic. However, there are also times when you should simply completely overlook a certain dress because it simply looks that horrible. One of these cases is when you have a dress that is striped. Now, in moderation, stripes can look just fine. Especially when the stripes are just a small part of the dress. However, fully striped dresses rarely work out because of the way that they make the body look.
Do not choose horizontal stripes. Ever. They add width to even the skinniest people and rarely look right on anyone. Vertical stripes can be a tiny bit better, but at the same time, they don't really add anything. Stripes also lack a certain elegance that all prom dresses should have, which is another reason that it is best to avoid them. Not to mention that they simply don't look right in prom dresses form or any other forms that you can possibly think of.
Make sure that any formal dresses that you choose only incorporate stripes minimally if they incorporate them at all. Make sure that you take the time to find accessories that do not clash with your stripes. It's best to choose other items that are geometric in shape as opposed to chain jewelry.