Prom 2018 is like the most awaited event of the year for high schoolers- simply put, it is the Oscars of high school students with the titles of prom king and prom queen to be remembered as the last of all the awards one has been given an opportunity to win; it's the most cherished and prestigious one. Hence, all the worries, tantrums, shopping sprees, extravagant spending are readily justified when it comes down to prom night. Considering the amount of effort that goes into planning a prom dress we thought it would be best if we got our lovely young ladies some ideas for their prom dress beforehand which would save them the effort and energy both.
So without further ado, check out some real-time tailored designer dresses which you can use to design your own unique prom dress.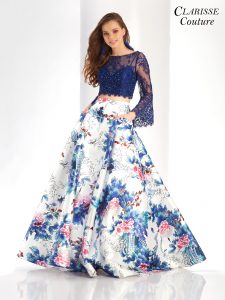 1. Floral Diva
Not all of us are a great fan of sequence and bling and prefer things simple. However, when it comes to events like prom and weddings most of us shy away from dressing up because we feel it's not appropriate to don floral dresses on a formal event. Let us have the honor of breaking this news to you that NO, it is completely fine if you wore floral to prom or to a wedding – however, you need to keep in mind what sort of cut you need to add that panache to your demeanor. We suggest you take a good look at this dress and get the inspiration you need and the motivation you need to feel completely fine in your own nature-friendly floral style.
It's worthy to note how the dress has been well paired up with a lace top to finish the look with the ideal chic twist.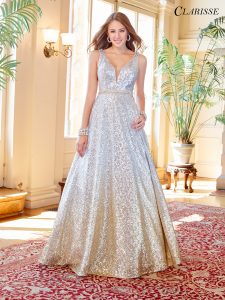 2. Sequence Galore
For ladies who adore Gatsby, well this one's for you. If you want your prom nights to be the kind as depicted in movies then opt for sequence embellished gowns. Go for the elegant ones instead of the cheap ones that are laden with inexpensive gems and speak for themselves that they have been bought at some thrift store. Sequence embellished gowns are an ideal pick for women who have a rather slim physique as well as women with curves that they wish they could show off. For curvy women, we suggest that they go for an overall gown that is not really laden with sequence but has enough work to be found everywhere on the fabric. For slim ladies, we suggest they get a gown that is paired with tulle instead of an overall draping fabric because tulle adds up the volume that is required. A sweetheart neck with sequence chest area and tulle below it- imagine wearing something of this sort – you'll know how it feels to be a goddess.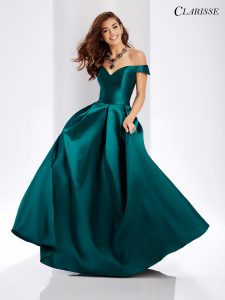 3. Off Shoulder Ball Gown
Go on board with the classics. Check out this classic piece that we searched only for our young ladies so that they could take some inspiration and look like a princess who has come right out from a Disney movie. Be the Cinderella or Rapunzel of someone else's dream by dressing up like one. Check out this ball gown by Clarisse
The sweetheart neckline when paired with couture style stitching and design, you get nothing short of sensational prom dress. You can use this dress as a prototype, and if you really like it and can afford it then head straight on to promgirl.net and buy yourself this amazing dress and flaunt it like a real-life princess on prom.
4. Mermaid Gown
There was a time when mermaid's gown was nothing but rage. It seems like that time is back again. If you have an hourglass figure and tend to shop at the very last moment well then mermaid gown could be your go to a prom dress. It encapsulates your curves in stretchable fabric, highlighting all your curves, caressing your figure like a lover while making you stand out among all the others on the last night of your high school. Here is a reference picture for you to consider: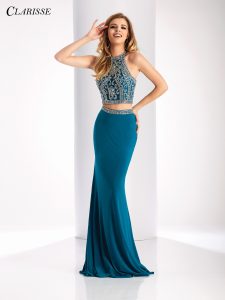 5. Two-piece Gowns
Listen up you ladies. You don't have to follow the typical trend of wearing one piece gowns when you can wear two pieces, both pieces complimenting each other and highlighting your figure separately. The best part about these gowns is that they are fashion forward and you can customize tops with jewelry easily. Look at the black one and gain inspiration for the somewhat tribal culture inspired look. While on the other hand, you can also check out the amazing blend of the contemporary and classic style of prom dress. So the options are open for you to choose.
Which one of these prom dresses is you most inspired from?